Do braces make your teeth yellow?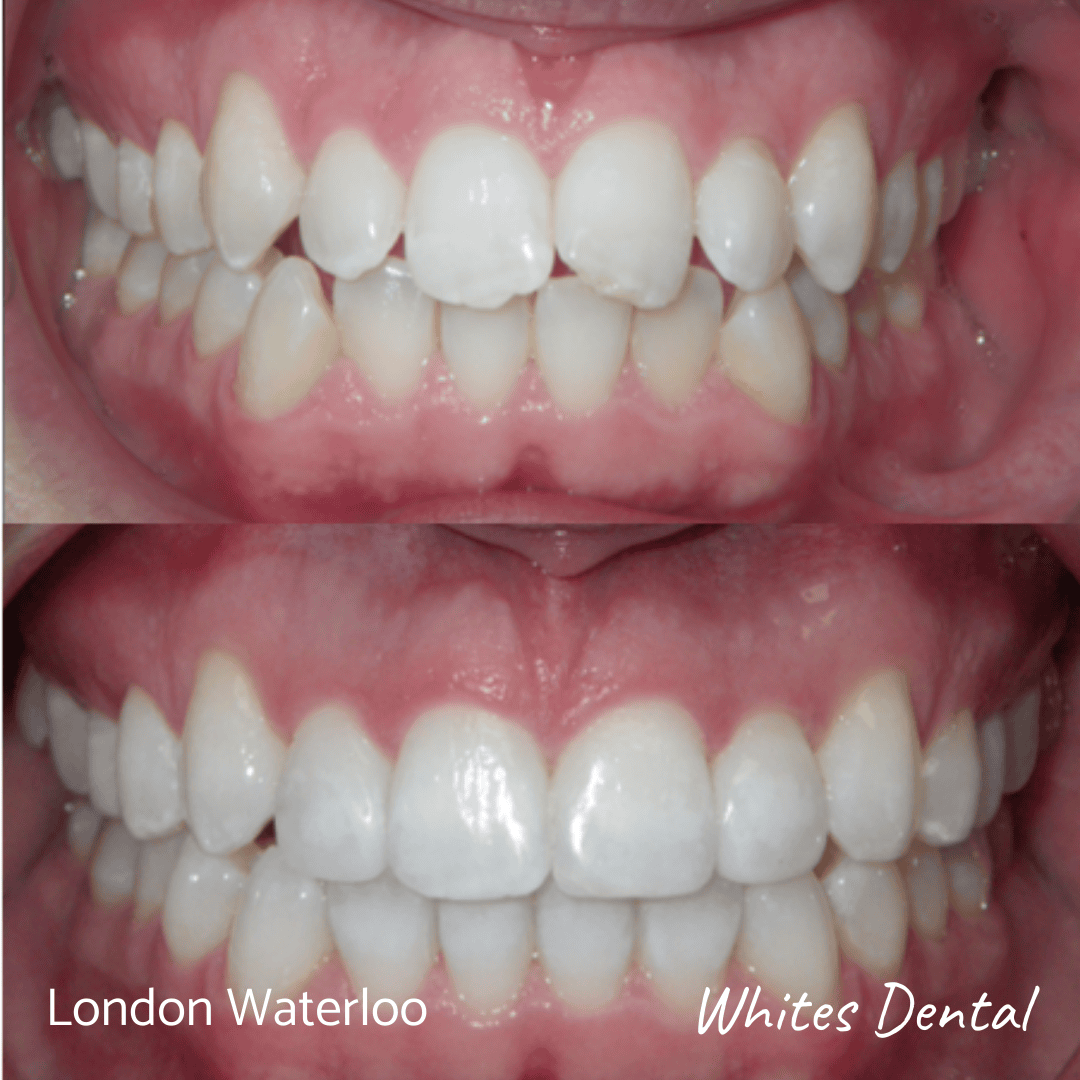 Braces in London Waterloo

There are so many fantastic benefits from orthodontic treatment in London, such as improved confidence and overall oral health, but what else can happen? Are there any side effects when it comes to straightening your teeth with braces? Our friendly dental team here at Whites Dental would be more than happy to answer any questions you may have regarding brace. We provide a range of brace treatments including Ceramic brace, Invisalign brace, Damon Fast Brace, clear brace and lingual brace. We are based in London Waterloo, adjacent to Southwark Station or a quick walk from Waterloo rail station (about 5min) or a 10min walk from London Bridge station.
Sometimes, throughout orthodontic treatment you can experience slight discoloration around the brace where you maybe haven't been able to manoeuvre your toothbrush around every angle – we understand that it's a bit of a tricky job. Naturally, with newly straightened teeth it seems only appropriate to want your teeth to be just as white as they are straight, for that gleaming 'Hollywood' smile.
After many months of waiting and having gone through all the hard work of wearing brace, some orthodontic patients are extremely disappointed to see that their teeth are a complete mess after the brace come off. Improper oral hygiene and not turning up to dental check-ups can lead to yellow teeth after brace, to white spot lesion, and even cavities on the tooth surfaces. Getting orthodontic treatment can put you at risk of oral disease, as the teeth are harder to clean, and certain tooth surfaces remain hidden due to brackets on top of them, causing yellowness of the teeth after the brace come off. Damage can also be caused from the appliance itself. In order to avoid yellow teeth after braces or any other kind of damages once the braces come off, you must go to your check-ups. The dentist will be able to see any systemic problems that can cause the unwanted yellowness or cavities during orthodontic treatment, and will be able to raise awareness about them before they cause dental problems.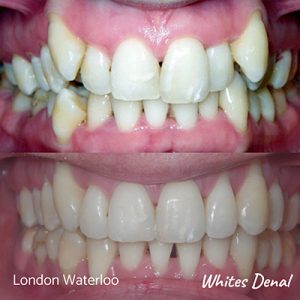 The other fundamental way to avoid white spot lesions after brace is to upgrade your at home oral hygiene regiment. Flossing will be harder than usual, but indispensable in your fight against tooth decay during braces. If you are finding flossing impossible, then try an inter-dental toothbrush to replace the dental floss. These special toothbrushes can get in between the teeth and the wires and brackets, cleaning out food remains. Removing plaque and food debris is a major step in making sure that your teeth are not yellow after brace. Given the fact that keeping your teeth clean when wearing brace is unvaryingly more difficult, it's heavily recommended that you eat and drink healthily so as to ensure that your teeth are also strong and healthy. As such, you should avoid foods and drinks that are particularly bad for the health of your teeth, such as caffeine and sports drinks.
Sticky foods should be avoided at all cost when wearing brace as they can damage both your braces and teeth, while sugar should be limited as much as possible to avoid the damaging effects that too much sugar can have on oral health.
In addition, make sure that you avoid fizzy drinks too, as the acid within can wear down your enamel. Some extra food you should limit while wearing brace include caramel, caramel, chips, and chewing gum. By maintaining a healthy diet, the risks of developing issues with your teeth and gum are significantly lowered and will allow your smile to appear beautiful immediately after your brace are removed. But if you already have some stains once the braces have come off and are wondering what can be done, there is no need to worry. Your orthodontist will recommend a hygiene session after your orthodontic treatment regardless of whether or not your teeth are yellow after braces, and this will remove any stains and plaque on your teeth. You can also undergo a whitening session to whiten the shade of your teeth, and you can even have a whitening session in the comfort of your own home, with at home whitening kits.
It is always advised to whiten teeth after brace, instead of before. Teeth whitening before brace can result in uneven shades across the surface of your teeth from where wires and brackets sit, and from shifting teeth. One of the common reason patients seek out brace is to fix crooked teeth. Crooked teeth mean your teeth usually overlap, therefore if you whiten your teeth before brace, the whitening agent will not be able to reach some areas of your teeth. As your teeth shift during your orthodontic treatment, this will generate an uneven shade spectrum across your smile. Orthodontists typically recommend that patients wait for around six months after the braces are removed before whitening their teeth. There are two reasons why this is recommended; saliva and tooth sensitivity.
Wearing braces for a few months or longer can cause teeth to feel weak for a short period of time, so giving yourself time to adjust will make teeth whitening more effective and comfortable. In a lot of cases, a patient's saliva is enough to reduce the intensity of discolorations and differences in shades after their brace are removed. However, if six months pass and your teeth are still looking discoloured, teeth whitening after brace may be necessary to create a whiter, healthier-looking smile.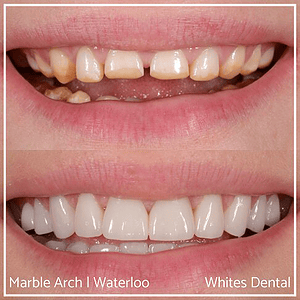 If you interested in getting braces for yourself or someone you know, please book a free consultation with us and talk to one of our dental professionals. Our dedicated dental team is always happy to discuss the best treatment for your needs, and to provide honest, impartial advice on how best to care for your teeth.
For more information on orthodontic braces, visit our orthodontics homepage – https://www.whitesdental.co.uk/orthodontist-teeth-straightening-london-waterloo/
At Whites Dental, we work with some of the leading orthodontists in London who provide a wide range of Orthodontic treatment from fixed braces, Invisalign, Damon braces, Fastbraces, Six Month Smiles, Lingual braces and metal braces. Our webpage provides information on whether braces make your teeth yellow.