Teeth Reshaping in Waterloo SE1
Unhappy with the
shape of your teeth?
Straighten minor misalignment.
Improve teeth shape and size.
Close gap between teeth.
Unhappy with the
shape of your teeth?
Straighten minor misalignment.
Improve teeth shape and size.
Close gap between teeth.
Frequently Asked Questions
Chipped or abnormally shaped tooth? Spacing between teeth?
1. Composite Bonding can help fix small problems in a few teeth or even just one tooth. The procedure can transform the shape, shade and appearance of teeth – all on the same day. It is a minimally invasive process that improves teeth shape by the addition of a tooth coloured composite, which is then 'bonded' to the natural tooth. The composite is hand sculpted by the dentist to achieve the desired shape to create a natural looking tooth. A vast range of shades are available to help match tooth colour perfectly.
Discoloured or worn out teeth? Crooked teeth?
1. Composite Veneers could be a good option. A composite resin is sculpted directly onto the teeth to produce beautiful results. The process is similar to Composite Bonding, however, its used for more extensive reshaping of the teeth. Composite Veneers are carefully sculpted and hardened by the dentist – typically in a single appointment. They are less invasive, do less damage to the underlying tooth and are more cost effective than Porcelain Veneers.
2. Porcelain Veneers use thin, custom-made shells of tooth-coloured porcelain bonded to the surface of the tooth. They can be a good option in certain circumstances – e.g. deep staining or minor teeth misalignment which is difficult to mask with composites. If you have minor misalignment in your teeth, Porcelain Veneers can reshape your teeth and make them look perfectly straight — no braces required. They are typically longer lasting and more durable than Composite Veneers.
Looking specifically for a smile makeover?
1. A combination of Composite Veneers and Composite Bonding can fix chips, cracks, gaps and create beautiful smile makeovers without damaging the underlying tooth structures. Usually 4-6 Composite Veneers are done to the front teeth to produce the smile makeover. No drills and also no massive bills.
2. Porcelain Veneers are commonly used for smile makeovers, where all the visible teeth are fitted with Porcelain Veneers to give a balanced, uniform, white tooth smile that extends to the sides of the mouth. Porcelain Veneers give good long term stable results for colour and shape.
Composite Bonding is typically reserved for situations where only minor chips or repairs are required. Subtle changes to the length and shape of the tooth can be made. Minor gaps between teeth can be successfully closed using the procedure. The procedure requires no needles or drills and is reversible. The procedure is often used when natural teeth are a little crooked, not as white, chipped or cracked. Results are typically same day.
Composite Veneers enable large changes in tooth shape and form. Composite Veneers can be used to whiten a tooth's shade, make teeth appear more straight and aligned, increase tooth size and also to close gaps between teeth where more extensive work is required compared to composite bonding. A full smile makeover can cost a lot less than one with Porcelain Veneers. Composite Veneers can be a great cosmetic alternative to Porcelain.
Porcelain Veneers use a porcelain shell bonded to the front face of the teeth to change their shape, colour, size and position. They can also mask defects or deep stains and camouflage minor teeth misalignments. Similarly if underlying tooth enamel is damaged, porcelain veneers can improve the appearance, shape and symmetry of the teeth. The procedure involves preparing part of the tooth structure and can take a number of appointments and up to three weeks to complete.
"Composite Bonding can help where only minor chips or repairs are required"
"Composite Veneers enable large changes in tooth shape and form"
"Give yourself a smile makeover with Porcelain Veneers"

Composite Bonding

from

£160
Composite Veneers

from

£450
Porcelain Veneers

from

£600
Ethically Priced
Our teeth reshaping treatments are very ethically priced. That typically results in our prices being very competitive.
Dr. Deepa and Dr. Xenia are very experienced cosmetic dentists, with over 20 years of dental experience between the two of them.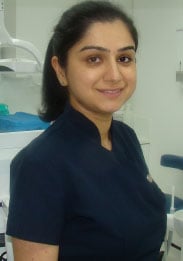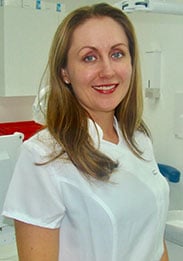 Experienced Cosmetic Dentists
Dr. Deepa, our principal dentist, has 10 years of experience in dentistry, providing a wide range of cosmetic treatments to her patients. Her down to earth, warm and friendly persona helps her to very quickly bond with her patients. Always looking to further her education, she has completed an advanced restorative course. Dr. Deepa takes a very personal approach always helping put patients at ease.
Dr. Xenia graduated in 2005 as a general dental practitioner and has over 10 years of private dental experience. She has continued her professional development with the Royal College of Surgeons in restorative dentistry. In her own words, Dr. Xenia says "It's vitally important to me that all my patients have the comfort and confidence in the treatments we undertake and leave with a happy smile. I am constantly updating my skills so that my patients can benefit from the latest dental techniques available."
Whites Dental provides Composite Bonding and Veneers to patients within our vicinity. We are conveniently located in Waterloo SE1, adjacent to Southwark Tube station. We are an under 10mins walk from Waterloo, London Bridge, Southbank, Borough and Southbank. Please visit our homepage at www.whitesdental.co.uk for more details about our dental implants and dentures service.