Invisalign Braces After 40 – It's Never Too Late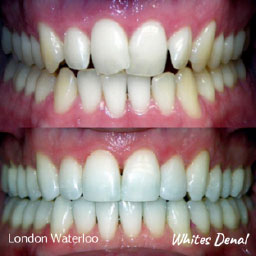 Orthodontic Braces in London
Thousands of adult men and women across London have had their teeth straightened as teenagers. Orthodontic braces aren't just for teenagers; they can help straighten teeth for adults as well. If you are an adult over 40, you should know that it's still not too late to have your teeth straightened with braces. Adults over the age of 40 often have a number of reasons for not having their teeth straightened even if they are keen to do so. Often they feel they are too old and that they have missed their chance to straighten their teeth. Also, the thought of wearing 'train track' fixed metal braces can be off putting to adult patients who don't want to feel self-conscious.
There's good news for adults who want to have their teeth straightened. Modern orthodontic brace systems can straighten teeth for both adults as well as teenagers. A number of discreet brace options also exist, enabling adults to straighten teeth discreetly. You therefore no longer need to put off having your teeth straightened.
What are Invisalign braces?
Invisalign braces are a revolutionary new way to straighten teeth without the need for traditional metal brackets and wires. It involves the patient to wear a series of virtually invisible, custom made trays (called aligners) that discreetly straighten the patient's teeth. The aligners completely do away with the need to have metal wires and brackets, meaning they go completely unnoticed. The aligners are also completely removable, so you can remove them to eat food and brush / floss your teeth after meals and before bed.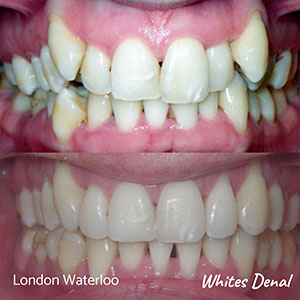 Is age a limiting factor for Invisalign braces?
Many adult patients mistakenly assume that orthodontic braces or teeth straightening treatment are only for teenagers and children. Thankfully that is not the case at all. Although it is common to get treatment for crowded or crooked teeth when you are a teenager, there is nothing stopping adults from having adult braces to straighten their teeth later in life. We will go so far as to say that at Whites Dental, a vast majority of our brace patients are adults over the age of 25.
As an adult, how can I find out whether I am suitable for Invisalign braces?
Invisalign braces can be used to treat a wide range of orthodontic issues. However, every individual and every case is unique. In order to find out if you are suited for adult braces, you will have to attend an orthodontic consolation with one of our Invisalign dentists. They will do a thorough assessment of your teeth and gums, take x-rays if needed and then provide you the various treatment options available to you.
It's worth noting that you need to have healthy teeth and gums for Invisalign brace treatment to be effective. If you have any dental issues such as cavities in the teeth or gum disease, you will have to get them treatment first before you can start brace treatment.
How will Invisalign braces benefit me?
Adult patients' who are conscious about their teeth and find themselves reluctant to smile for pictures can benefit immensely from Invisalign braces. Straighter teeth will help regain lost confidence. Given Invisalign braces are virtually invisible, even the teeth straightening process can be discreet, enabling a patient to not feel conscious while wearing braces. This means you can wear the aligners during social gatherings such as dinners and parties without anyone being able to tell that you are wearing orthodontic braces. And also given Invisalign braces are fully removable, you can eat and drink pretty much all your favourite foods and can brush / floss your teeth as normal, without hassle.
Invisalign braces also help you improve your oral hygiene by straightening crowded teeth, which can be a hindrance and make it harder to clean your teeth properly. Oral hygiene hindered by crowded teeth can increase risk of tooth decay and gum disease. In this way, Invisalign braces help you maintain better oral hygiene.
How do Invisalign braces work?
Invisalign braces are an innovating new approach to straighten your teeth. They don't use traditional fixed metal brackets and wires. Instead, Invisalign braces use a series of custom made straightening trays (also called aligners) to move teeth gradually, each aligner at a time, from their starting position to their final straightened positions. Invisalign aligners need to be worn for 20 to 22 hours a day and must be removed while having food and brushing / flossing your teeth. Invisalign brace treatment can take anywhere between 3-4 months for minor misalignments to over a year for more complex cases.
Why should I choose Whites Dental to straighten my teeth with Invisalign?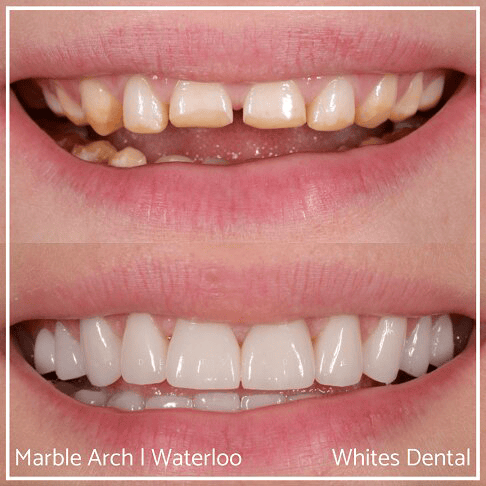 Our dentists are some of London's leading Invisalign experts, having performed over 1000 Invisalign cases. They are committed to providing each and every patient with exceptional orthodontic care and service. This makes our dentists fully dedicated to help you achieve a healthier and straighter smile.
Why not find out if you are suited for Invisalign by booking a complementary Invisalign consultation with one of our Invisalign dentists. The consultation takes a little under 30 mins and is completely free. We will assess your teeth and provide you various teeth straightening options along with associated prices. There's never any pressure to take up treatment if the options or pricing are not suited to your needs.
You can find out more about Invisalign braces for adults on our Invisalign homepage – https://www.whitesdental.co.uk/dental-invisalign/