Dental Hygienist Waterloo SE1
Hygiene Clean
Unleash a brighter, healthy
and confident smile.
Hygiene Clean
Unleash a brighter, healthy
and confident smile.
Dental Hygienist (Hygiene Treatment)
Whites Dental is proud to offer dental hygienist treatments in the heart of Waterloo and Southwark at surprisingly affordable prices. We offer the following dental hygiene treatments –
Hygiene Clean – Maintaining oral health by keeping your mouth clean and disease free. Our dental hygiene or hygienist clean treatment will help prevent dental diseases like tooth decay & gum disease and other related problems such as bad breath from arising.
Smile Styling – Stains are a fact of modern day living. Our smile styling offering is designed to help you achieve the smile you desire. We will examine your oral hygiene, clean & polish your teeth, check your teeth shade and provide bespoke advise on improving your smile, oral health and freshness of your breath.
Smokers Makeover – Our Tobacco makeover is the perfect choice for smokers who wants to keep their teeth looking healthy. We will help remove tar related staining and clean yellowing teeth.
Gum Treatment – Periodontal or gum treatment is designed to reduce infection and inflammation taking place below gum level. Our experienced periodontist will advise and help treat gum related issues.
Hygienist Clean – Standard


c.30 mins dental hygiene session includes scale and polish

£69
Hygienist Clean – Platinum


c.60 mins scale and polish, deep clean and localised stain removal

£125
Smile Styling


c. 40 mins scale & polish, teeth whitening shade check and lifestyle review

£75
Smokers Makeover


c.80 mins clean & polish, deep clean and localised tar specific stain removal

£135
Perio Consultation


c.60 mins consultation to review and address gum related diseases

£120
Ethically Priced
At Whites Dental, our experienced dentists perform hygiene clean treatments. This offers significant benefits to patients as the dentist is able to pick up dental concerns and issues which a hygienist may not otherwise have been able to.
Dr. Deepa and Dr. Xenia are very experienced dentists, with over 20 years of dental experience between the two of them.
Our hygiene clean treatments are very ethically priced. That typically results in our prices being very competitive.
We can located adjacent to Southwark Tube station and can typically offer same day hygiene appointments. Please call or email us to book an appointment.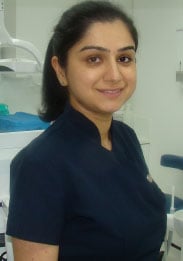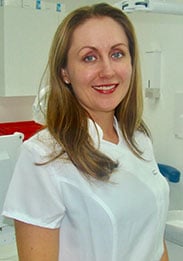 Teeth Cleaning by Experienced Dentists
Dr. Deepa is our principal dentist. She has 10 years of experience in providing general dentistry to families and office going professionals. Her down to earth, warm and friendly persona helps her to very quickly bond with her patients. Anxious patients are Deepa's speciality; she takes a very personal approach, helping put patients as ease – always ensuring the patients comfort and sense of ease are a primary consideration.
Dr. Xenia graduated in 2005 as a general dental practitioner and has over 10 years of private dental experience. In her own words, Dr. Xenia says "The way in which I communicate with my patients is a very high priority to me. Also, it's vitally important to me that all my patients have the comfort and confidence in the treatments we undertake and leave with a happy smile."
Dental Treatments
Whites Dental, dentist & hygienist in Waterloo SE1, offers a full range of private dental services including general dentistry, cosmetic dentistry, specialist treatments and emergency dentist services. We are located adjacent to Southwark Tube station.

General Dentistry
Our general dentistry treatments include dental hygiene, emergency dentist, composite (white) fillings, root canal treatments (RCT), crowns, bridges, dentures and extractions.

Cosmetic Dentistry
Some of our most popular treatments include Invisalign, Teeth Whitening, Teeth Reshaping (Composite Bonding and Veneers) and Dental Implants.
See our Fee page for pricing of the rest of our treatments.
Whites Dental also offers same day emergency dental appointments and periodontic treatments from our expert team of specialist dentists.
Patient Testimonials
Google 5 Star Reviews

At Whites Dental, we try very hard to exceed the expectations of each and every patient, providing you with an exceptional dental experience.
"The team clearly care very much about the service they provide and will go to great lengths to ensure that you, as the paying customer, are satisfied."
TITLE
SUBTITLE
"The repair to the chipped tooth was excellent, the team highly professional and informative, and the room incredibly clean."
TITLE
SUBTITLE
"Great experience, professional staff and reasonably priced. Best dentist I've ever been to."
TITLE
SUBTITLE
"Great service. the hygienist was lovely and very supportive (i am a big wimp) - talked me through whole procedure and gave good advice. thank you! will definitely be back"
TITLE
SUBTITLE