Can you feel teeth shifting with braces
Create The Smile You
Have Always Wanted
Perfect your smile in as
little as £4/day.
Braces in London Waterloo
Braces are a good way of straighten your teeth, improve how your teeth look and also how they work. Fixed braces can also benefit you with the long-term health of your teeth and gums as well as making eating easier, by spreading the biting pressure across all your teeth. Our orthodontic team here at Whites Dental in London Waterloo are here to help address any questions you may have regarding braces.
Knowing what to expect when you get braces will help you feel readier for how your teeth will feel and react to braces.  The actual procedure is very simple.  All patients need to do is, literally, sit back and let the orthodontist do all the work.
Placing the Braces
Before placing braces, your orthodontist will remove remains from your teeth and prepare the surfaces so that the brackets can be attached using a glue.  The glue contains fluoride and the fluoride actually wards off cavity-causing bacteria in the areas where the brackets sit over the tooth itself.   Once we place the brackets, the wires that will move the teeth are placed into the bracket slots.  As soon as the wires are activated, your teeth will begin to shift, but you shouldn't feel the movement at this point.
How Braces Feel
During the placement appointment, you will normally observe the brackets touching their cheeks and tongue. It will take a few days to adapt to having braces. A few hours after the placement of braces, your teeth will start feeling the movement of the braces. The best analogy to explain this feeling is to think about when you haven't made it to the gym recently, and then you go exercise. The next day your muscles will feel sore and tender.  Often, the soreness in your teeth will last a few days. Because each person's perception of the soreness is different, some people might feel more discomfort than others.
You will need a bit of time to get used to this feeling as your teeth have never shifted and this is the first time your body is experiencing the braces working. If you take any over the counter painkillers, these should help reduce the soreness and pain.  Your orthodontist will also provide you with dental wax to use in areas that may be rubbing your cheeks or tongue.
Loosening of Teeth
Right after the braces are put on, your teeth will begin moving and in a few days, you may observe some of the teeth feel loose.  Don't panic, because this is the normal pattern of tooth movement and is the method teeth use to move through the bone.  You may feel teeth getting loose and see opening where no spaces existed before.  As your teeth move into the optimal position, the extra spaces will close, and your teeth will firm up again.
Caring for Braces
When your orthodontist places your braces, he or she will also go over care instructions with you.  Achieving a successful outcome depends on how well you care for your teeth, treat the brackets, and follow your orthodontist's instructions.
Brushing
While wearing braces, you need to maintain the teeth, gums, and brackets themselves clean. Brush your teeth using a soft bristle toothbrush after every meal and before bed. Place the toothbrush at a 45-degree angle and brush above, below, and in between the brackets. Don't forget to clean your tongue and the roof of your mouth also. Afterwards, make sure no food or plaque remains around the teeth. As soon as the bristles look worn out, replace your tooth brush. Think about investing in an electric toothbrush as they reduce plaque better than manual toothbrushes.
Flossing
Flossing removes the plaque and food trapped in between teeth and braces, so you need to floss at least once a day. You can ask your orthodontist or hygienist to show you how to floss with braces when you get your braces placed on your teeth. Healthy teeth and gums move more effectively and your treatment will progress more efficiently.
Rinse
Mouth rinses will help minimise plaque build-up as well as reduce irritations and minor gum inflammation.
Eating with Braces
Unfortunately, plaque and food debris accumulate naturally on teeth with or without braces, but the brackets make it easier for the mess to sit on the teeth's surface. This food and plaque create a higher acidity level, which can lead to tooth decay or gum irritations.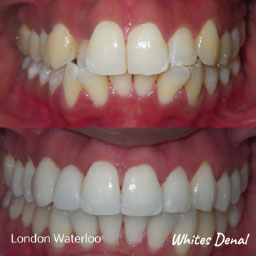 To decrease the chance of damaging the brackets and reduce the risks of cavities or gum irritations, your orthodontist will ask you to avoid certain foods during orthodontic treatment. Making smart food choices will help reduce the quantity of plaque build-up around your teeth. Foods with higher sugar content produce more plaque. Sticky and chewy foods tend to stick to the brackets and teeth, which also generates more plaque. Sodas can lead to issues with their high sugar content and the soda carbonation that breaks down the glue on the braces. To stop brackets and wires from breaking, cut hard foods into small bite size pieces. Cavities, broken brackets, and swollen gums can extend your treatment time and hurt your overall dental health.
Here are some foods to avoid, but use common sense and logic before eating foods that can potentially damage your braces.
Foods to Avoid:
Chewy foods like toffee, skittles, and gummy bears
Crunchy foods such as popcorn, ice, chips
Sticky foods such as gum or caramel
Hard foods like candy, nuts and tough bread
Biting on hard objects like pencils, pens, or nails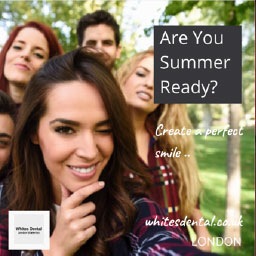 At Whites Dental, we have some of London's leading dentists providing orthodontic braces treatment to patients in London Waterloo, SE1, Southbank, Elephant and Castle and also London Bridge. This page provides information on whether you can feel teeth shifting with braces.