5 Reasons For Using Invisalign
Create The Smile You
Have Always Wanted
Perfect your smile in as
little as £4/day.
5 Reasons For Using Invisalign To Straighten Your Teeth
Invisalign clear braces offers adults and teens a viable orthodontic option for straightening their teeth, giving them a beautiful smile makeover in the process. Well aligned, straighter teeth can provide you with a healthy looking, beautiful smile. Traditional fixed metal braces also provide a good alternative to achieving the same aesthetic goal; however it is a little unappealing to most adults because of the unsightly and highly visible nature of traditional fixed metal braces. Invisalign provides an innovative new way of inconspicuously straightening your teeth to give you a straighter, more beautiful smile.
Invisalign is very popular with both adults and teenagers due to this very reason – the braces streamline the teeth straightening process and can actually make the entire experience enjoyable. Invisalign can provide amazing teeth straightening results for a wide variety of orthodontic cases. If you are not happy with how your teeth look and want to find a teeth straightening option that's best suited to your needs, why not speak to our orthodontic dentists at Whites Dental in London Waterloo to see whether Invisalign braces may be the right option for you.
Invisalign can treat a wide range of 0rthodontic teeth straightening cases. These include –
Under-bite, over-bite, open-bite and cross-bite
Crooked teeth
Teeth overcrowding
Gappy teeth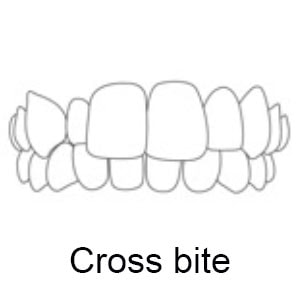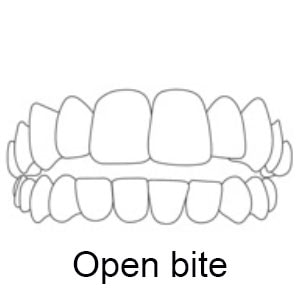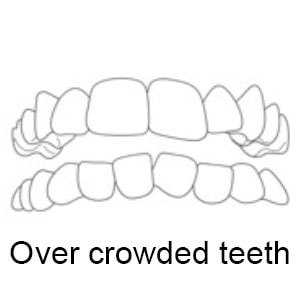 The Invisalign braces, also called aligners, help to straighten crooked and misaligned teeth. They are especially popular for mild to moderate misalignment cases. The aligners can also help fix certain bite issues in order to improve your oral function. Invisalign aligners are custom-built using an innovative advanced computer software system to create comfortable, sturdy, smooth plastic braces that patients can wear to straighten their teeth. Over the course of the Invisalign treatment, teeth are gradually and gently moved to their desired new location, step by step, using a series of customised, clear aligners. Each set of aligners is worn for 1 to 2 weeks on the upper and lower teeth for at least 20 to 22 hours each day. After every 1 to 2 weeks, the aligners are switched to the next set in the series to move the teeth gradually at a consistent steady pace. With Invisalign braces, patients in London can enjoy the convenience of this orthodontic method for straightening teeth to create a fantastic smile makeover. And the best part of it all is that no one will even notice you are wearing them. Invisalign aligners are virtually invisible, enabling you to straighten your teeth discreetly.
Five reasons you should use Invisalign to straighten your smile
Our team of orthodontic dentists at Whites Dental are very pleased to bring Invisalign braces, along with all their benefits, to teens and adults in Central London. Although traditional fixed metal braces can sometimes be a more efficient orthodontic alternative for certain patients, we list below the five advantages that Invisalign braces are able to provide –
Easy to use and wear – Most of our Invisalign patients report that Invisalign aligners are very easy and comfortable to wear. The sturdy plastic material from which each aligner is made is computer-generated and custom manufactured to exactly fit the patient's teeth and is very smooth in texture. Each aligner is held in place using small resin 'buttons' bonded to specific teeth within your arches in order to hold the aligners in their place. Invisalign aligners also aren't known to cause soft tissue irritation in the mouth or cause mouth sores as it is relatively common with traditional fixed metal brackets.
Discreet option – Invisalign's clear plastic aligners are virtually invisible and very hard for others to notice. Conventional metallic wire brackets on the other hand are very easily noticeable to others. Even the composite resin buttons that are placed on specific teeth to lock in the trays are made of tooth-coloured material and therefore not noticeable. Most of our patients tell us that when they wear the clear aligners, most of their friends and family aren't able to tell they are wearing them. This is a very attractive feature, for both adults and teens, especially office working professionals, who prefer a discreet teeth straightening option.
Completely removable – Invisalign braces have to be worn for at least 20 to 22 hours a day, every day. However, they can be removed for eating and brushing your teeth. This is in contrast to traditional metal braces, which are fixed to your teeth and cannot be removed, causing food to collect while eating. Invisalign aligners on the other hand are fully removable for eating and drinking. They are also removed for brushing and flossing your teeth, cutting down on plaque build-up during the teeth straightening process. We strongly suggest to all our Invisalign patients to brush and floss their teeth after eating food before they put their aligners back on. This helps to reduce food particles getting trapped between the teeth and the aligners, minimizing the chance of tooth decay, cavities and other related oral health issues.
Better oral hygiene – As Invisalign aligners can be completely removed for brushing and flossing your teeth, you can get better oral hygiene results as compared to the challenges that come with cleaning your teeth with cumbersome braces and wires associated with traditional metal braces. Invisalign braces reduce some of the secondary oral health risks that can be associated with traditional fixed braces such as plaque build-up, gum disease and tooth decay around the fixed brace metallic hardware. Invisalign braces on the other hand help reduce the risk of these secondary oral health risks such as plague build up and caries as they enable easier and better cleaning of teeth while brushing and flossing.
Faster than traditional braces – A significant proportion of patients who consider Invisalign braces to straighten their teeth have minor to moderate concerns to address. A lot of them come to us with slightly crooked or misaligned teeth. In many of these cases, Invisalign treatments usually takes less time at the dentist to complete than traditional fixed metal braces. They are easy and quick to apply compared to traditional braces, and your review appointments with the dentist are much shorter with Invisalign braces. 80% of our Invisalign cases are typically completed in 8-10 months.
How much does Invisalign cost?
At Whites Dental, our Invisalign packages cost from £1,500 onwards. We are also able to provide affordable finance plans to our patients to allow them to spread the cost of their treatment over 6 to 12 months. If you are thinking about Invisalign, call our friendly reception team to schedule an Invisalign consultation with one of our orthodontic dentists.
You can obtain further information regarding Invisalign on our Invisalign homepage – https://www.whitesdental.co.uk/dental-invisalign/ [Insert link]
We share Invisalign articles on our Facebook and Instagram pages, please feel free to like us –
https://www.facebook.com/whitesdentaluk/
https://www.instagram.com/whitesdentaluk/
At Whites Dental, our orthodontic dentists provide Invisalign clear braces at very affordable prices to patients near us in London Waterloo. We are located right in the heart of London Waterloo, adjacent to Southwark Tube station. Our premises are also an under 10 minutes' walk from Elephant and Castle, Borough market and London Bridge.