Why do my teeth look bad after braces?
Create The Smile You
Have Always Wanted
Perfect your smile in as
little as £4/day.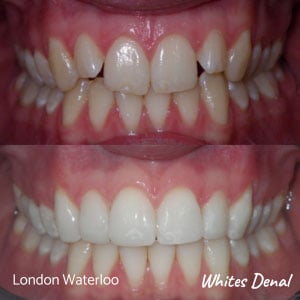 Orthodontist Braces in London Waterloo
Orthodontic teeth straightening treatment has become very popular with adult patients in London in the past 8-12 months. Most people, unless they are very fortunate, will end up wearing braces for at least eighteen months. Numerous teenagers wear braces during all four years of high school. By the time it's time to get you out of your braces, you would have probably forgotten what it felt like to not have braces anymore. Our orthodontic team at Whites Dental in London Waterloo would be delighted to be a part of your braces transformation. We provide a range of braces treatments including Ceramic braces, Invisalign braces, Damon Braces and clear braces. We are based in London Waterloo, adjacent to Southwark tube.
Once the wires are removed and the brackets are out, you experience an adjustment period that is very close to the adjustment period you need at the start of your time with braces.
Here are a few things you might notice when you get your braces off.
Straight Teeth – Your teeth are finally straight! Even though you might have been able to feel your teeth line up and even see how your smile was changing over time, the first time your braces come off is usually the first time you'll be able to see how straight and beautiful your new smile is. This can entirely change the way you look, especially if you've seen yourself with a mouth full of metal for the last two or three years.
Calluses – You can find calluses on the insides of your lips. This is one of the first things you observe once the brackets are off of your teeth. If you had metal braces, there are going to be some calluses on the insides of your lips where there was once sensitive skin. Calluses develop when you first put your orthodontic braces on. They will link with the brackets of your braces, however, you can't usually feel them till your braces are taken off. Don't worry – these will eventually disappear.
Eating is Strange – After years of adapting how you eat to accommodate your braces, it can be very strange to not have any of those hindrances. You can finally bite into an apple again, eat crisps without having any worries. Gum, chewy candies, popcorn and other sticky foods are okay again. Because you've avoided so many foods for so long, it is always exciting to start incorporating those foods back into your diet. The dietary freedom that comes with getting your braces removed is always fun!
Brushing and Flossing – It's much easier to brush and floss once your braces are off. No more special brushes or flossing contraptions! Maintaining your teeth clean is much easier without a wire and brackets. With fewer obstacles, getting your mouth clean is a walk in the park, but that isn't a license to take it easy. Especially as your mouth is getting used to not having the metal in it anymore and as you begin including certain foods back into your diet, it's important to be diligent about brushing and flossing thoroughly.
Tender Teeth – The teeth are tender. Getting your braces removed is a little bit like getting them on. The orthodontist will have to use a degree of force to get the braces, wire, bands and the glue off your teeth. While it doesn't hurt, when you get home from your last dental visit you might feel that your teeth and gums are a little tender. The sensation probably won't be any that much different to how your mouth feels after you had a wire adjustment.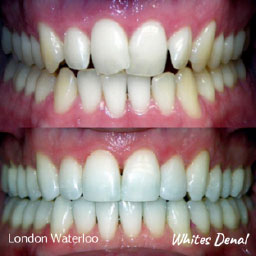 Discoloration – Your teeth could look a little bit yellow. Having braces can make it difficult to keep your teeth white and shiny as it is harder to reach all of the surfaces of a tooth. Your teeth might be a little yellow, but it's nothing your dentist or orthodontist can't fix. You might also notice some calcification. This sign is actually good for your teeth as it means you're getting enough calcium and that your teeth are strong, but you might not love how it looks. Talk to your orthodontist about these spots.
Follow Up Appointments – Your treatment isn't really over. You will probably have at least one more appointment with your orthodontist after getting your braces removed. This is usually to make sure that your retainers fits properly and that it is keeping your teeth in line. Most people have to wear their retainers forever, to prevent teeth from moving back to their original position. If you don't wear them even for a few nights, you might notice that it feels extra tight or slightly out of place when you put it back in again. This is because your teeth have already started to shift out of position!
Settling – Your teeth might settle. Without the brackets and wires there to keep them in place, and even if you are wearing your retainer diligently, your teeth might still move. Don't worry, they're just settling and this is a normal and predicted part of getting your braces off. It's always for the better!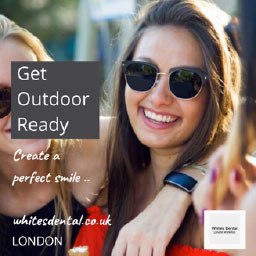 A Beautiful Smile! – Everyone is noticing your happy, braces-free smile! Getting your braces off is a radical change, and your family and friends will definitely not miss it, especially now that they can see how even your teeth are!
If you have braces or are thinking about getting braces…what are you waiting for? Once your treatment is over, you're sure to notice a big difference in your smile and the oral health of your mouth!
If you want to know more about orthodontic braces or are considering getting braces treatment for yourself or your child, why don't you come see us for a free consultation? You can discuss the various orthodontic options available to you with our orthodontics team. For more information on orthodontic braces for straightening your teeth, visit our orthodontic braces homepage – https://www.whitesdental.co.uk/orthodontist-teeth-straightening-london-waterloo/
At Whites Dental, we work with one of the best orthodontic teams in London. They will be able to assist you in every way possible. This page provides information on whether your teeth look bad after braces.