How Much Does Composite Bonding Cost in the UK
Create The Smile You
Have Always Wanted
Perfect your smile in as
little as £4/day.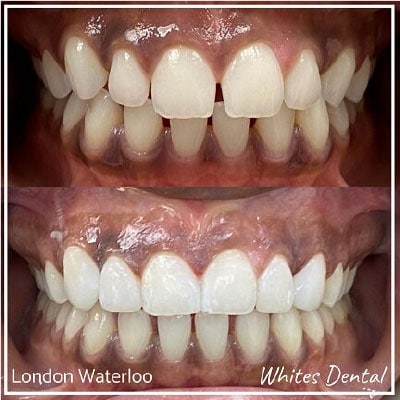 Award Winning Dentist
2500+ Cosmetic Cases
Video Consultation
Remote Assessment
Composite Bonding
Cost from £160/tooth
How Much Does Composite Bonding Cost

Typically £230-£255/tooth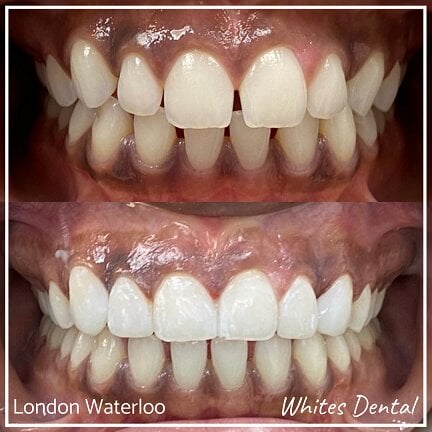 "Bonding can be used to close gaps between your teeth. If you have a gappy smile, bonding can help. Cost effective procedure."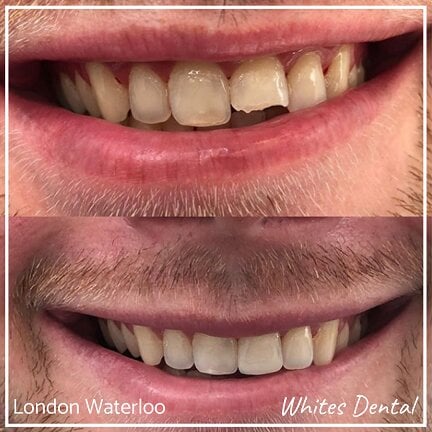 "Composite Bonding is often used to fix chipped teeth or visible surface cracks. It's a quick, painless procedure."
Improve Teeth Shape & Size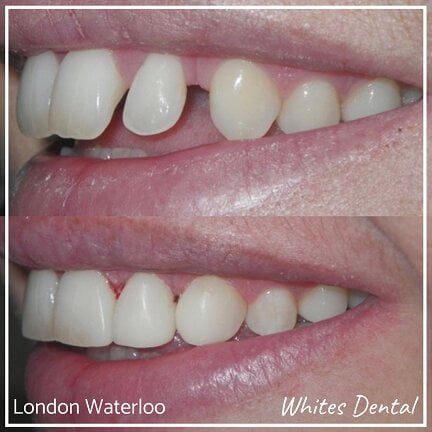 "Improve the shape & size of your teeth with Bonding. If you had an oddly shaped tooth, bonding can help correct it, all in one appointment."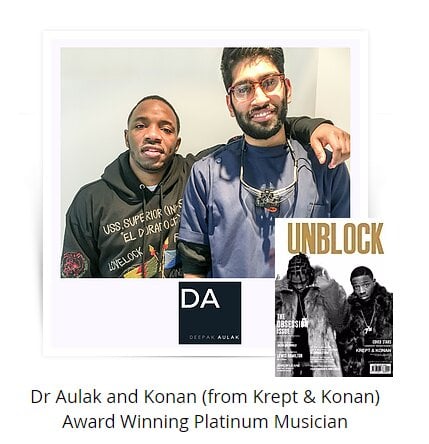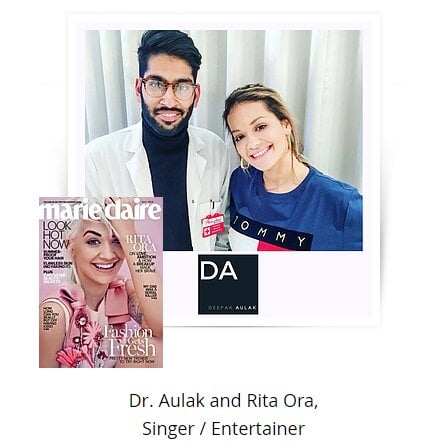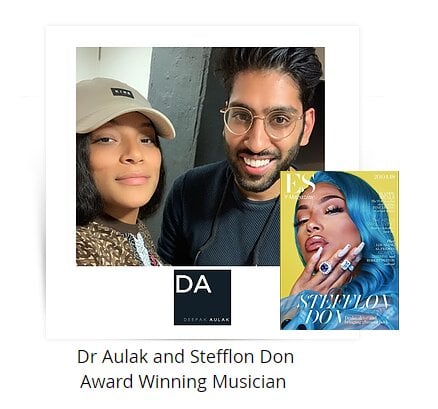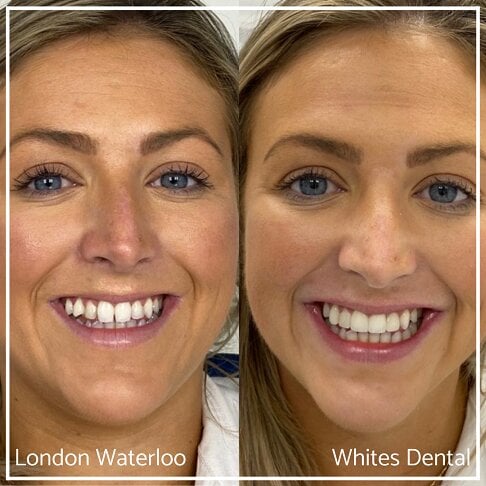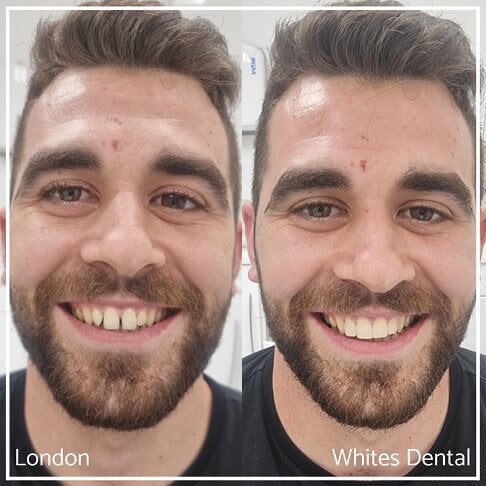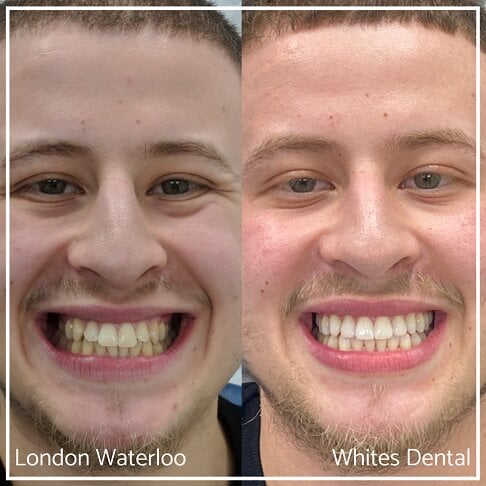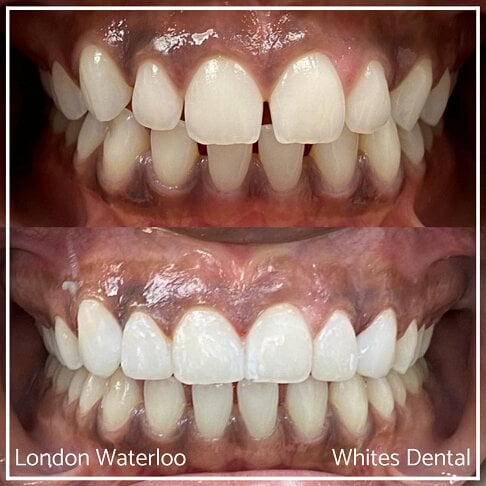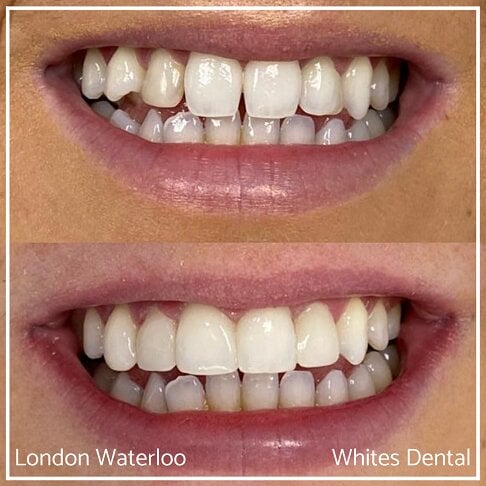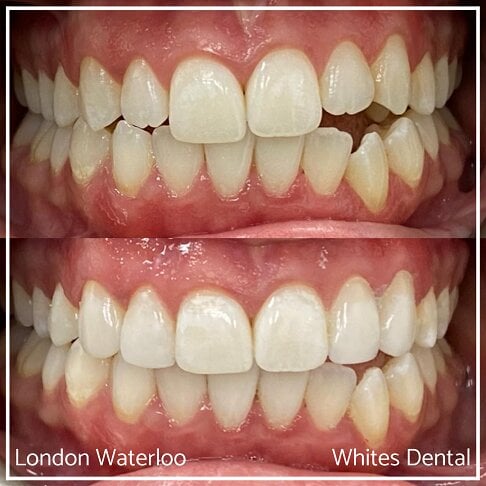 Composite Bonding in London Waterloo
Cosmetic dentistry is increasingly becoming popular with men and women in London City. Many patients ask us about composite bonding treatment and how much it costs. The answer is that composite bonding is one of the easiest and cost effective cosmetic dentistry treatments in London today. At Whites Dental, our cosmetic dentists provide a range of cosmetic treatments such as dental bonding, porcelain and composite veneers and teeth alignment (using Invisalign clear braces). We are conveniently located in London Waterloo, adjacent to Southwark tube and a quick 10 mins walk from London Bridge.
Your smile is probably one of the first things that others will notice about you. Do you have a broken tooth or a gap between your front teeth that you are not happy with? Dental or composite bonding as its also called may be the solution for your smile. Regain the confidence to show off your smile!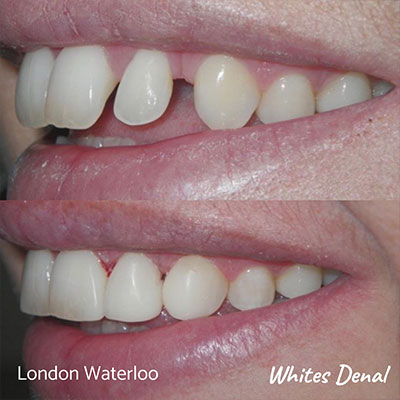 What is composite bonding?
Composite bonding (also known cosmetic bonding or dental bonding) is quite a modern way to repair teeth, either for cosmetic reasons, or to build up tooth structure that has been lost. Composite bonding is a procedure in which a tooth-coloured resin material (a durable plastic material) is attached to a tooth and shaped to restore its original appearance and hardened with a UV light, which ultimately "bonds" the material to the tooth to restore or improve your smile. The composite resin material can be exactly colour matched to the colour of your teeth; this will enable it to appear as though the bonded composite is a natural part of your tooth. Composite bonding is typically used for fixing chips, filling gaps or fractures between the teeth, or for whitening tooth discolouration. Composite bonding is particularly great because it is a non-invasive procedure meaning we don't remove any tooth structure and the treatment is reversible too, so if you are unhappy with the result, your dentist can remove the composite filling.
Doing composite bonding does not have any major risks. The only thing you need to be aware of is that the composite resin used with this procedure isn't as strong as your natural teeth. Therefore, there is a possibility for the material to chip or separate from your real tooth. Chipping or breaking, however, doesn't occur as often with a crown or veneer. However, with alternatives such as crowns and veneers, part of the tooth is permanently removed. For composite bonding to be applied, the surface of the tooth only must be roughened to help the resin to bond, meaning the structure of the tooth remains intact.
Composite bonding is typically used to for the following –
Close gaps or spaces between teeth
Change shape of teeth
Repair cracked, broken or chipped teeth
Improve the appearance of stained teeth
Make teeth look or appear longer
Protect the surface of the tooth's root exposed due to gums receding
Cosmetic dentistry treatments are no longer as costly as they once used to be. With new advances in dental technology over the last decade, new tools have become available, cosmetic treatment times have reduced and as a result, costs of cosmetic dental procedures have come down as well. Composite bonding treatments can be as low as £160 to fix chips and make minor changes to the shape of a tooth. More advanced treatments such as composite veneers and porcelain veneers can be more expensive, costing upwards from £460 to £600 per veneer. The cost of composite bonding and veneers depends on three factors mostly. The first factor is the scale and complexity of the change you wish to make. If you want to make significant changes to the shape and size of a tooth, the treatment duration will be longer. Longer treatment duration requires the cosmetic dentist to spend more time making the changes, thus leading to a higher cost of treatment. The second factor impacting the cost of cosmetic dental treatments is the type of treatment you choose to use. Porcelain veneers typically tend to be more costly as compared to composite veneers and composite bonding. Also, the more number of teeth you want to change, the more expensive the cost of treatment. The third factor driving the cost of cosmetic dental treatments is the cosmetic dentist you choose to take up treatment with.
Dentist in London : At Whites Dental, our leading cosmetic dentists are highly experienced and knowledgeable with various cosmetic procedures. They also have post graduate qualifications and training to support their cosmetic experience. Our composite bonding procedures start from £160 per tooth and our Veneers start from £450 per tooth. Please see below a list of our teeth reshaping costs. You can book a consultation with one of our cosmetic dentists; they will be more than happy to discuss your cosmetic dental needs and provide you with a more accurate cost for the treatment you seek.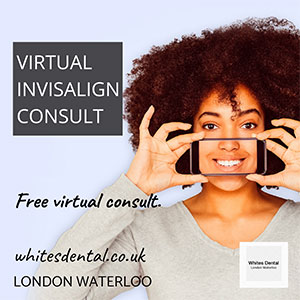 How long your bonding lasts will be largely dependent on you. That said, correct diagnosis, talented hands and a great relationship with your dentist will help your composites last longer. Composite resin is not unbreakable and will be subject to wear and tear. Like everything, if you look after them they will last longer! If you're interested in having composite or dental bonding in London, call our friendly reception team today to book a free video consultation with our cosmetic dentist. We have provided more details regarding cosmetic dentistry in the link below – https://www.whitesdental.co.uk/cosmetic-dentistry/
At Whites Dental, our cosmetic dentists are some of the leading cosmetic dentists in London with many years of industry experience. If you are considering composite bonding but aren't sure whether it's the right treatment for you, they will happily answer questions you may have such as how long does composite bonding last. We are based in Waterloo, adjacent to Southwark Tube station. We are also a 10 minutes' walk from London Bridge, Elephant and Castle, Blackfriars station, Waterloo, Southbank and Borough.