Which braces are fastest?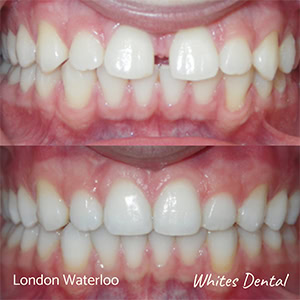 Orthodontists in London Waterloo

Braces can drastically improve the overall appearance of your teeth and give you the confidence that you need to smile again! Our leading orthodontic dentists at Whites Dental would be thrilled to help adults in London create a new beautiful smile. We provide a wide variety of orthodontic braces treatments near Elephant and Castle and London Bridge, including Damon Fast braces, Ceramic braces, Invisalign braces and lingual braces. We are situated in London Waterloo, adjacent to Southwark Station or a quick walk from 10min walk from London Bridge station..
What are orthodontic braces?
Braces are a great way of straightening or moving your teeth, to improve how they look and how they work. Fixed braces can also help you with the long-term health of your teeth and gums as well as making eating more comfortable, by spreading the biting pressure across all your teeth. Brace work by gently applying pressure on the teeth, to slowly move them in the right direction. As the pressure starts working, the bone in the jaw changes to allow the teeth and their roots to move. To answer the question "which brace are fastest?"- the results will vary depending on numerous factors such as bone density, misalignment severity, and even the age of the patient as well as the type of brace you are going for. However, having said that you should start noticing changes within four to six weeks. Each time you get your brace adjusted or switch to a new Invisalign tray, your teeth will become straighter and straighter. Depending on how crooked your teeth were at the start of your treatment, it can take a few years for the brace process to be finished. However, you will enjoy straighter and straighter teeth as time goes by.
Complex cases take longer
No two cases are the same but some treatments are easier than others. The minimum amount of time someone needs to wear brace can be as less as a few months to fix a simple case such as a crooked tooth or spacing issue to as long as 18 months as some adult patients can have more complex cases with many issues to treat. Adults are often amazed to hear that braces can not only correct their crooked teeth but can also fix other related dental problems such as bone and gum loss, irregular wear of tooth enamel, headaches, tooth decay and jaw pain. Complex cases can take 36 months or longer for all teeth to be in the desired position.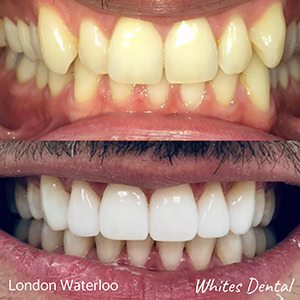 The Type of Braces Affects Treatment Time
The length of treatment with brace depend on the orthodontic treatment being used. Brace can be metal, ceramic or lingual.
Metal and Clear Braces
Clear ceramic and high-grade stainless-steel brace and are the most powerful orthodontic treatment method available. They are more efficient in moving your teeth than lingual brace and clear aligners thus a quicker movement into the desired position. Furthermore, these brace are also more likely to give the best result in the shortest time possible. The minimum time to wear braces can be as little as a few months to fix a basic crooked tooth or spacing issue to 36 months for both metal braces and ceramic brace. Ceramic brace use tooth-coloured brackets and arch wires so they are less noticeable than metal brace. However, the ceramic brackets can't tolerate quite the same amount of pressure as traditional metal ones.
Lingual Braces
Lingual brace (worn on the inside of teeth rather than the outside) are a popular option for adults as they are virtually invisible to other people. It is common for lingual braces to take longer to treat an orthodontic problem. Your orthodontist will scan your teeth so individual brackets can be custom made in a dental laboratory to fit each tooth. The brace are attached to the inside of your teeth and the wire fitted. When braces are on the outside of teeth, the wire can move teeth up and down, in and out more efficiently than lingual braces with the wire placed on the inside. Patients who choose lingual brace should also be prepared to attend more appointments for longer periods to check on progress and make adjustments.
Be compliant
While it's not usually a problem with adult patients, failure to comply with you orthodontist's instructions can extend treatment time. If you follow the directions of your orthodontist, your treatment will progress smoothly and will be on schedule. The most significant things to remember about compliance are:
Stick to your appointments with your orthodontist and follow their instructions
Be thorough and consistent with your oral hygiene
Don't wait to make an appointment to repair breakages as this could allow teeth to go back to their original positions
Braces After-Care
Once your brace come off, it doesn't mean your orthodontic treatment is finished. Without the aid of a retainer, teeth can still move back to their original position. Whether you have had brace for several months or three years, it does not make a difference. Your orthodontist will tell you how often to wear the retainer (every day or every night) or he might fit you with a permanent retainer (a wire attached to the back of the bottom teeth).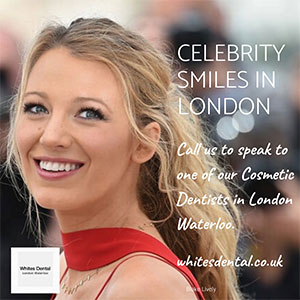 If you want to know more about brace or are considering getting them for yourself, why don't you call us to book a free consultation? You will be able to discuss what you want with our dental team and identify the braces option best suited to you. For more information on orthodontic braces,
visit our orthodontics homepage – https://www.whitesdental.co.uk/orthodontist-teeth-straightening-london-waterloo/
At Whites Dental, our orthodontists provide a range of fixed orthodontic brace to patient's in London – these include Invisalign invisible brace, Damon braces, Lingual braces, fixed ceramic braces and Fastbrace.
Our webpage provides information on which brace are fastest. You can find us in London Waterloo, adjacent to Southwark tube station or a 5min walk from London Waterloo Railway station.
If you fancy a walk then we are 5 minutes' walking distance from Blackfriars and Southbank stations and a 10 minutes' walking distance from London Bridge, Elephant and Castle tube station and Borough Market.