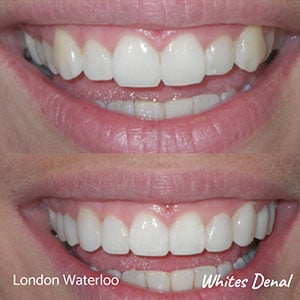 Veneers in London Waterloo
Porcelain and composite veneers are very popular with many of our patients in London looking to improve the appearance of their smile and also to improve their confidence. At Whites Dental, our cosmetic dentists can help create a beautiful, natural looking smile you have always wanted to have. We provide a wide range of cosmetic dentistry treatments in the city of London such as professional whitening, porcelain and composite veneers, composite bonding and teeth alignment. We are based in Waterloo, right opposite Southwark Station or a 4-5min walk from Waterloo Station.
Why Do Some Veneers Look Fake?
Many patients are looking for different results from their veneers. What this means is that in some cases, yes, they will look fake and in others they absolutely won't. Most people, when asked about veneers, think about the bright white dazzling smiles of famous celebrities. What they don't think about are all of those smiles that they didn't realise were actually veneers. This is why there is a perception that veneers look fake when in fact, generally only the deliberately fake looking ones look fake. There are some exceptions such as very low-quality treatments in which the only option is to look unrealistic even if the aim was to create a natural looking smile.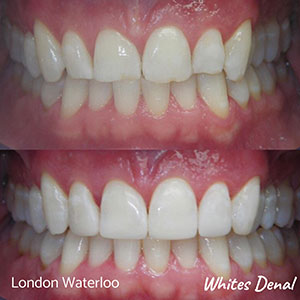 The Celebrity Look
Pioneered by Hollywood's most famous, the celebrity veneers look is one of bright proportions. They wanted people to know that they have expended on styling their teeth. This concept has spread through to the general public who often ask for a show stopping smile.
The Natural Veneers
It is most common for our patients to ask for veneers that look natural. By natural, they want to achieve a perfect smile but one that does not look manufactured at all. It is mostly achieved back in the lab. You would be surprised at the level of detail that can be harnessed during the fabrication of cosmetic veneers. In some cases, little dents and lines are added to the teeth to give the impression of wear and tear similar to normal teeth. After all, if a veneer looks too polished and blemish free then it would hardly look realistic.
In Summary…
Well, it all comes down to personal preference. If you want your veneers to look like real teeth then they very much can. If you want them to look clearly off the shelf then that is entirely possible too. The key note to take away from this, though, is that it takes much more skill to pull off treatment for realistic veneers. Cosmetic dentists go through hours and hours of training to develop the skills needed in order to make your veneers appear to be perfect teeth that still look like your own. I cannot stress enough the importance of choosing your cosmetic dentist wisely. If you choose an unskilled practitioner at a very cheap price then don't expect to be happy with the results.
What does the process of getting veneers look like?
Possibly the most crucial step in your veneers journey happens before the treatment even starts. Before anything happens, it is vital that your cosmetic dentist has the opportunity to fully evaluate your current situation and if your teeth are in a suitable condition to make the veneers treatment viable. This is just one reason that you need to consult with an experienced dentist. An experienced dentist will be able to accurately tell you if the veneers treatment will work for your particular case. If your teeth are not in a suitable condition and the treatment goes ahead then you are at a high risk of damaging your dental health and making things much worse in the future. During this time, you will have the chance to talk frankly with your cosmetic dentist. You will be able to talk about your objectives and how probably they are with a dentist who wants the best for you.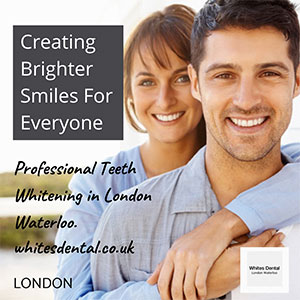 Time to make an impression!
After the preliminary discussions our cosmetic dentist will use a special dental putty to make an impression of your teeth. At the same time, he will document the current shade of your teeth so that when your veneers are fabricated at the dental laboratory they will match up with the colour of your other teeth creating a seamlessly natural smile. The lab is full of very talented dental technicians who will use their knowledge and experience to carefully create replica veneers designed and shaped just for you. These will be returned back to the dental surgery where they can be fitted to your teeth. This allows you to see how the final result will look and lets you effectively try out the veneers before having the final set made. If, after this period you are happy with the appearance of your replica veneers we will progress with the final fitting.
Now that you know a little bit more about these famous veneers, why don't you come visit us at our practice in London Waterloo? If you still have any unanswered questions, you can find more detailed about veneers on our homepage– https://www.whitesdental.co.uk/cosmetic-dentistry/
At Whites Dental, we have some of the leading cosmetic dentists in Central London working with us, offering whitening, tooth bonding, porcelain veneers and composite veneers to patients near us in Southwark, London Waterloo, Central London, Elephant and Castle and London Bridge. This page provides information on whether veneers look fake. We are located in London Waterloo, right across the road from Southwark Tube station and very close to London Waterloo mainline rail station. We are a 7 to 8 minutes' walk from Elephant and Castle tube station, London Bridge, Borough Market and a 4 to 8 minutes' walk from Blackfriars station and Southbank.