Dentist & Hygienist In Borough
The Power Of A
Confident Smile
The Power Of A
Confident Smile
Treatments Offered
Whites Dental, dentist & hygienist in Waterloo SE1, offers a full range of private dental services including general dentistry, cosmetic dentistry, specialist treatments and emergency dentist services. We are located adjacent to Southwark Tube station.
We can typically provide same day appointments – for both regular and emergency appointments.
See our Fee page for pricing of the rest of our treatments.
Whites Dental also offers same day emergency dental appointments and periodontic treatments from our expert team of specialist dentists.
96% of patients
are extremely satisfied with their treatment at Whites Dental.
Leading Dentists
Our dentists are trained to offer you the very best treatment.
Location
We are conveniently located in London Waterloo, right across from Southwark Tube station.
Flexible
We try to fit appointments to your schedule and offer weekend ones too.
Our dental practice in London Waterloo SE1 is located adjacent to Southwark Tube station on the busy Blackfriars road. We are also around a 5-10 minutes walk from Waterloo, London Blackfriars, London Bridge, Borough Market, Southwark and Elephant & Castle stations. We are open Monday to Friday from 9am to 6pm. We are also open on Saturdays from 10am to 2pm.
Please see our Contact page for a map of our location.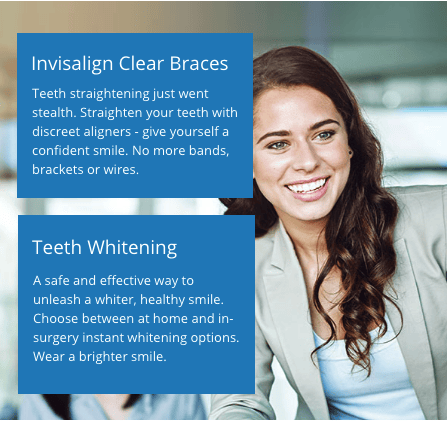 At Whites Dental, we provide our patients the option to pay for their treatment via a zero percent finance option. You will be able to apply and get approval within a few minutes right at the surgery. Please enquire at reception.
Getting in Contact with us
You can reach us in a number of ways. Easiest is to simply walk into our dental practice, located on the busy Blackfriars road in London Waterloo. We are highly visible from the main street, situated on the ground floor of a residential complex. Our friendly reception team will make you feel very welcome. You can also contact us via the phone – our contact number is listed at the top of this webpage. You are more than welcome to email us as well to book an appointment, email address at the top of the page.
Finally we would like to assure you – from the time you walk into our dental surgery to the time we finish your dental treatment, our dentists in Borough will continually aim to make your experience a very positive one.