Braces vs. Invisalign Elephant and Castle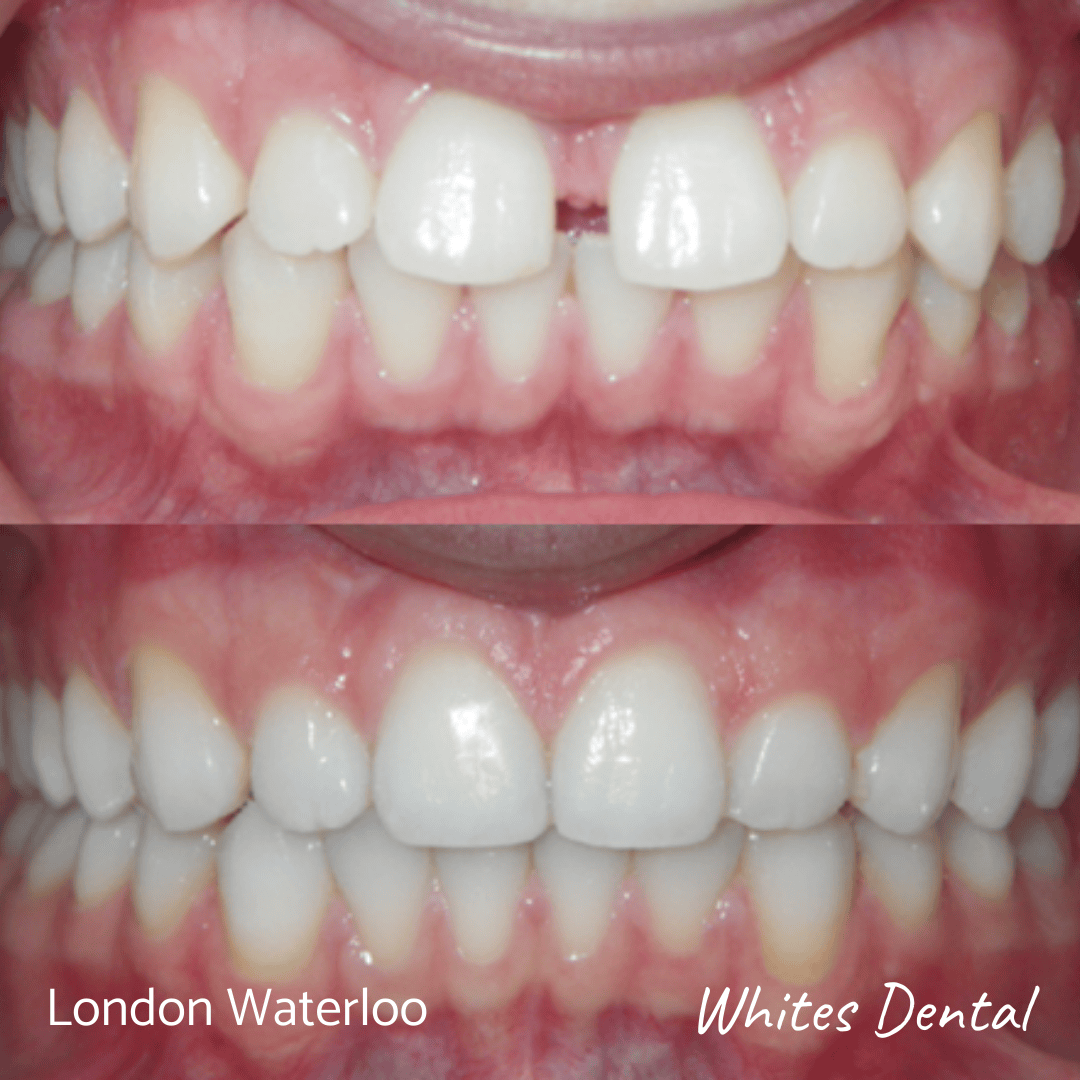 Teeth straightening treatments have come a long way in the last decade. Patients have a number of options they can choose from, to best suit their individual requirements and needs. However, it does beg the question – what orthodontic system should you choose? Fixed braces or Invisalign? Traditional orthodontic braces or fast appliances? Which type of braces is more affordable? Which one is most effective? which one is quicker? The choice often comes down to a side by side comparison of usually traditional braces vs. Invisalign. At Whites Dental, our goal is to find the treatment option that will best work for you and your needs – that means exploring all the orthodontic options available to you, providing you with the advantage and disadvantages of each type of brace system. In this article, we explore the advantage and disadvantages of traditional metal braces vs.  Invisalign clear braces in order to help you decide what type of brace would be best suited for you!
Both traditional Braces and Invisalign are designed to straighten your teeth to improve your smile and also oral health. Traditional fixed braces have been around for decades and have a well-established history of success. Invisalign braces on the other hand are a more recent treatment option, having been widely used only for about fifteen years or so. It however continues to dramatically increase in popularity. Traditional orthodontic braces consist of metal brackets that are attached to the front surface of the teeth, tied together by wires and small rubber bands. With advances in modern orthodontics, brackets are now available that closely match the colour of the teeth, however they are very much visible. Invisalign braces, on the flip side, are designed to be virtually invisible. The aligners are made of smooth plastic material and designed to be worn over the teeth. The aligners are also removable. Impressions of the teeth are used to make customised aligners for each patient.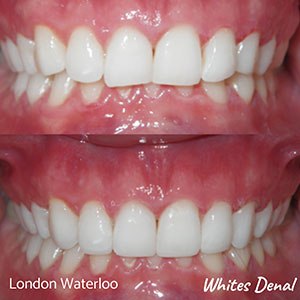 Traditional Braces are made of metal braces and wires that are attached to the front surface of the teeth. They are of course not removable. The emphasis of traditionally braces is on function over style. Fixed metal braces are extremely efficient at fixing complex teeth misalignment issues; they typically work faster at aligning teeth and closing gaps vs. Invisalign braces. Although every patient is different, the time spent with braces treatment can be anywhere between 18 months and 3 years. However, there is noticeable movement of the teeth within a short duration of time. Maintenance with fixed metal braces can often be a little more involved vs. Invisalign braces. The braces and metal wires can make dental hygiene a slight challenge; regular brushing and flossing is a must to maintain good oral health. There are also certain foods you will have to avoid – anything hard, sticky or too crunchy such as gum, apples, popcorn and other chewy items need to be avoided during treatment. Patients using traditional fixed braces can typically expect to have follow-up visits with the orthodontist every 4 to 6 weeks.
The orthodontist will change the bands attached to the metal brackets and the wire may need to be replaced alongside. Patients may experience slight soreness after each adjustment; however it should last only for a few days. Traditional braces provide very good results in the least amount of time.
Invisalign braces are virtually invisible and removable – those are the two major benefits of Invisalign vs. fixed braces. Invisalign braces also tend to be more comfortable versus metal braces, given Invisalign aligners are made from a smooth plastic material that doesn't irritate the cheeks or gums the way fixed braces and wires might. Invisalign braces are an efficient method for moving teeth in cases that are relatively simple and not too complicated. Invisalign braces straighten teeth in a less invasive manner as compared to traditional braces, it is therefore hard to say how long a patient needs to wear them. The average treatment duration is between 6 and 18 months, however that can vary from person to person. The aligners need to be worn for at least 20-22 hours every day, throughout the course of the treatment. Any deviation from this can often increase the treatment duration. Maintaining Invisalign aligners is very easy – given Invisalign aligners are removable, you will need to take them off before drinking or eating anything other than water, you therefore aren't faced with any issues regarding food getting stuck between brackets and wires as is the case with fixed braces. Invisalign braces also need to be removed before brushing and flossing, making it easier for you to clean your teeth vs. fixed braces. Although there are no specific food restrictions with Invisalign, you will need to remove the aligners before meals to avoid staining and clean and rinse them during your daily dental hygiene session. You can expect to attend follow-up visits with the dentist every 4 to 6 weeks. The aligners are custom made to fit each patient's unique requirements; they need to be changed every two weeks to keep up with the movement of your teeth. Invialign aligners are increasingly very popular with patients given their discreet nature. They fit in very well to the work and social needs to busy adults.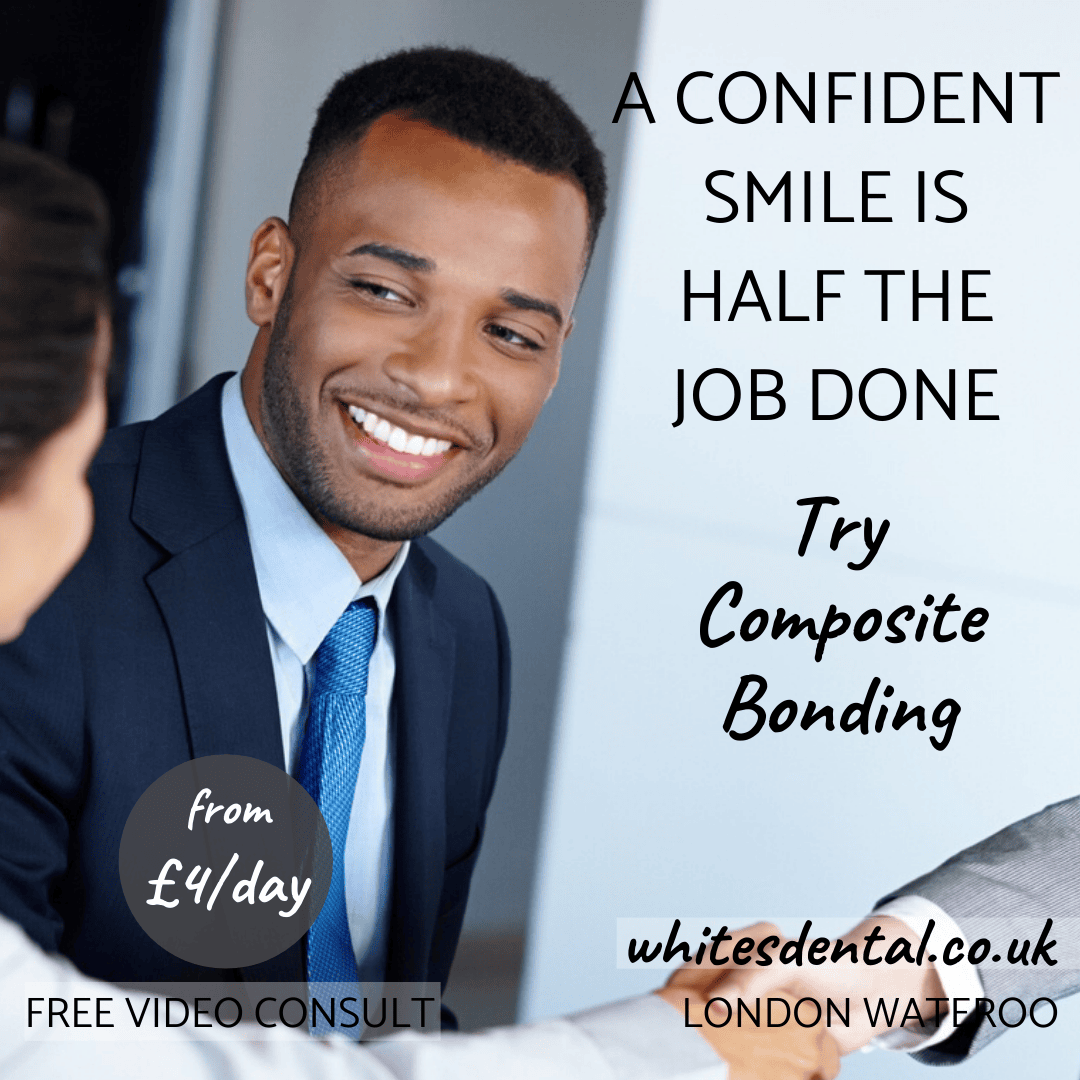 How Whites Dental can help
When comparing traditional braces vs. Invisalign, it is a tight race. Adults and also teens who are self-conscious might find Invisalign braces incredibly appealing given their discreet nature. The fact they are completely removable is also a big advantage. You can remove them to attend those really important work meetings or for that really amazing occasion. However, it's important to note that the success of Invisalign treatment depends on whether the patient adheres to the usage guidelines. If you don't wear the braces as directed, they won't work as well. With traditional fixed braces, the patient doesn't really get a choice in the matter. Traditional braces are fixed and cannot be removed – they therefore keep working to align the teeth all the time. Also, Invisalign is best suited to treat minor to moderate teeth misalignment issues. Complex cases are best treated with traditional fixed braces.  At Whites Dental, our warm and friendly team has decades of experience with both fixed braces and Invisalign; they will help you find the most effective treatment option to straighten your teeth. Get in touch with our friendly receptionist to schedule a complimentary consultation.
Invisalign Consultation


FREE
Orthodontic Consultation

£65
Invisalign


from

£1,500
Six Month Smiles


from

£1,950
Fast Braces


from

£2,250
Fixed Braces


from

£3,200
Exceptional Dental Care
At Whites Dental, we try very hard to provide every patient with exceptional dental care and customer service. We pride ourselves in going the extra mile to exceed the expectation of every single patient.
Our dentists, Dr. Magda and Dr. Xenia are very experienced dentists, with over 20 years of dental experience between the two of them. They go to great lengths to leave you with a happy smile at the end of your treatment with us.
Whites Dental provides Braces vs. Invisalign related comparison to our patients to help them decide what teeth straightening treatment might be best suited to their needs. We are located in London Waterloo SE1, adjacent to Southwark Tube. We are under 10 minutes' walk from London Bridge, Borough, Southbank, & Elephant and Castle.